Overview of Institutional Effectiveness
Welcome to the Office of Institutional Performance and Assessment at Florida State University!
We are dedicated to supporting the University community in our continuous improvement efforts. Our goal is to facilitate systematic, comprehensive, and data-based planning and evaluation processes focused on enhancing institutional quality and effectiveness. We believe that meaningful collaboration and genuine commitment is at the heart of our University's excellence!
What is Institutional Effectiveness?
A planning, implementation and assessment process that allows us to evaluate whether our practices are meeting our goals. Institutional effectiveness (IE) activities help assess performance and provide university accountability. The IE process reinforces instructional and administrative quality and effectiveness through a systematic review of goals and outcomes that are consistent with FSU's mission.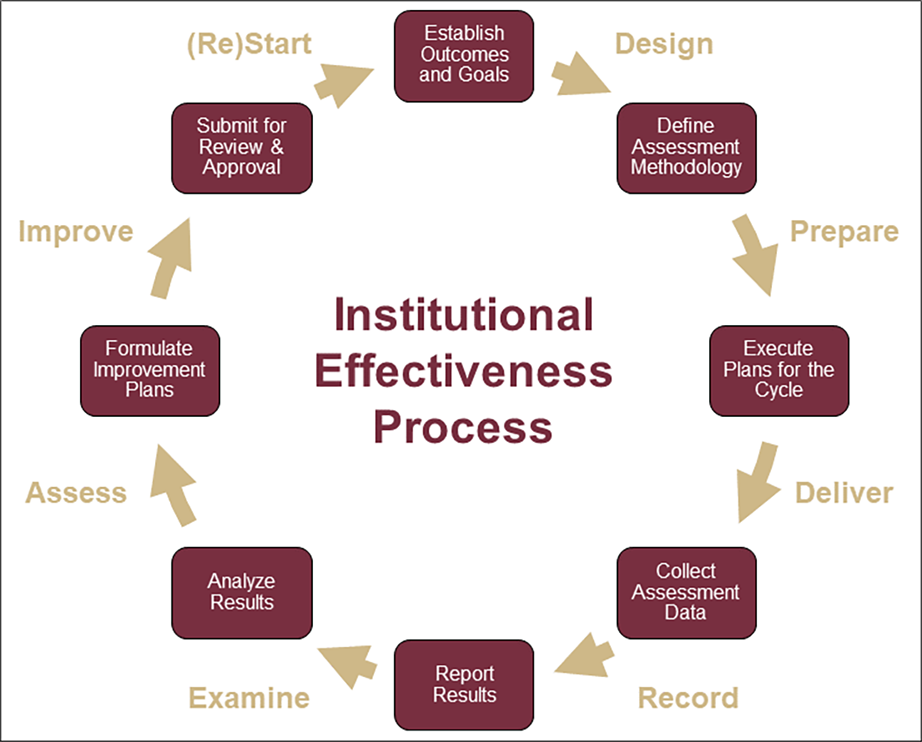 Why do we evaluate Institutional Effectiveness?
"Student outcomes—both within the classroom and outside of the classroom—are the heart of the higher education experience. Effective institutions focus on the design and improvement of educational experiences to enhance student learning and support appropriate student outcomes for its educational programs and related academic and student services that support student success. To meet the goals of educational programs, an institution is always asking itself whether it has met those goals and how it can become even better." (SACSCOC Resource Manual, page 66)
The IE process is a key way to measure how well we are meeting institutional goals. We formally assess our IE for three main reasons:
to self-evaluate and improve,
to demonstrate the product of our efforts to the public and campus community,
to meet the requirements for accreditation.
How do we assess Institutional Effectiveness?
Every campus unit sets its own annual performance goals that are measured and evaluated to determine how well they performed in a given year on those goals.
POs - All university units (academic, administrative, and academic and student support services) define and set expectations for their program outcomes. POs are the broader goals of the unit and may align with FSU Strategic Plan implementation, state funding metrics, strategic plans of the unit's College or Division, the requirements of discipline-specific accrediting agency, and/or unit's core/functional plans (for example, FSU Master Plan or FSU Emergency Management Plan).
SLOs - Academic programs develop student learning outcomes that specify knowledge, skills, values, and attitudes that students will attain throughout their studies in a program or in a specific course. Assessment methods and desired levels of student competencies are established in accordance with discipline-specific expectations and levels that are appropriate for post-graduation success. When feasible, SLOs can be written to conform to the requirements of discipline-specific accrediting agency.
What is the appropriate number of Program and Student Learning Outcomes?
Administrative units are required to formulate at least 2 POs. Academic and student support services units are also required to formulate at least 2 POs. There is no expectation for these types of campus units to formulate any SLOs.
Each academic program is required to formulate at least 1 PO and at least 2 SLOs for all degree levels, except Bachelor's. Due to increased accountability for undergraduate educational outcomes, Bachelor's-level programs are requested to articulate at least 5 SLOs, 3 of which must be assessed in 3000-4000-level courses and focus on 3 different categories from the following list: content/discipline knowledge and skills, communication skills, critical thinking skills.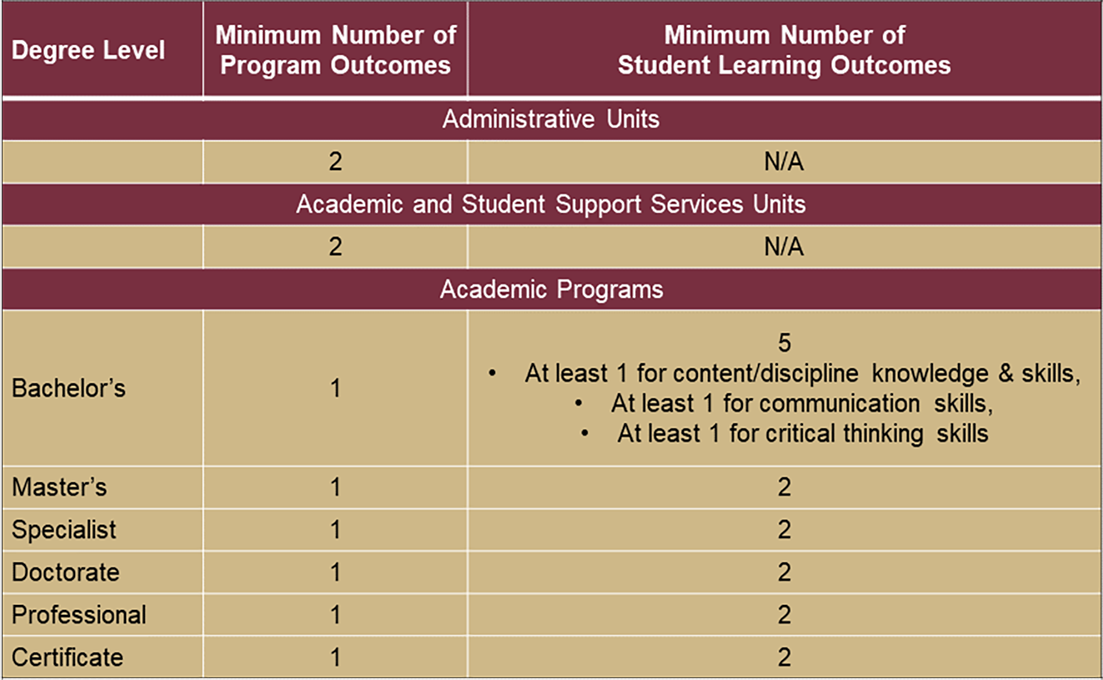 Who governs Institutional Effectiveness?
The Office of the Provost and Executive Vice President is responsible for the overall coordination of the university assessment processes. The Office of Institutional Performance and Assessment (IPA) within the Office of the Provost provides assistance to FSU units during all stages of their IE assessment cycles. The final review and approval of entries in the IE portal is the responsibility of the Executive Vice President for Academic Affairs (or designee).
Typically, each unit designates one or two people as assessment coordinators who lead and manage the assessment process and implementation of improvements at the level of their unit. However, it is expected that all members of the unit understand, provide input for, agree with, and participate in the IE process. The IE assessment is a shared responsibility between the faculty/staff, the assessment coordinators, the department chair/office director, and the associated dean/division VP. As such, they all are involved in an annual workflow that assures that defined Outcomes are appropriately designed, measured, analyzed and reported in a timely fashion. Each unit creates an assessment governance structure most suitable to its size and functions.
Prior to or shortly after unit's assessment coordinators submit the description of the IE assessment components into the IE portal, department chairs/office directors (or designees) review and approve the submissions. The final review and approval should be conducted by the college dean/division VP (or authorized designee). Suggested rubrics for evaluating the IE submissions are developed and distributed by the IPA Office on its website.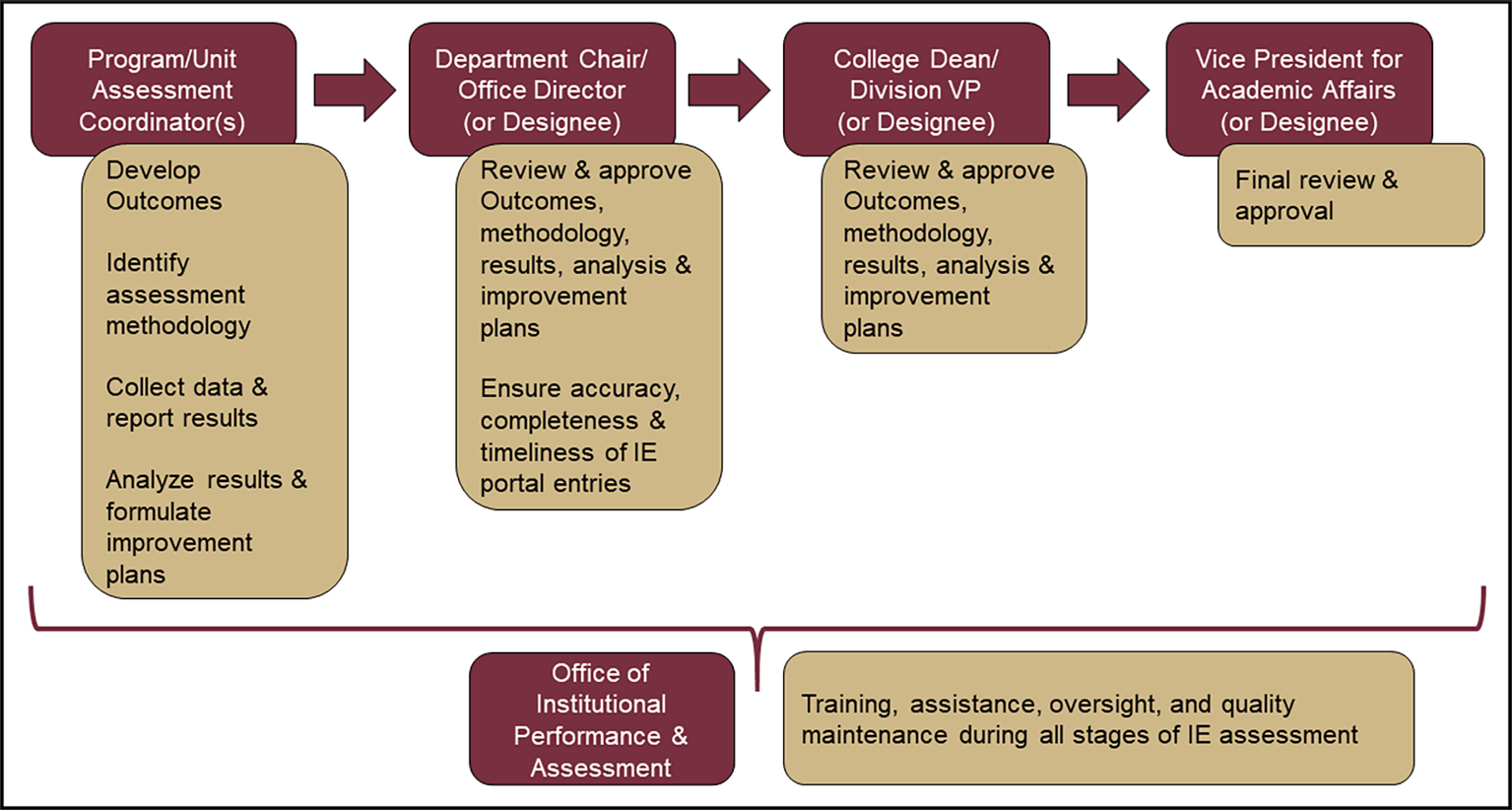 When do we assess Institutional Effectiveness?
While the process of improvement is always continuous and ongoing, we only formally evaluate attainment of Outcomes once a year, at the end of each unit's IE cycle. Each campus unit determines the best start and end dates for their IE timeline. Generally, most units operate on fiscal or academic year timelines. Fiscal years at FSU start on July 1 and end on June 31. Common academic year cycle timeframes are: 1) Fall and Spring semesters, 2) Fall, Spring, Summer semesters, 3) Summer C, Fall, Spring, Summer A & B semesters.
The recommended calendar for engaging in and completing various components of the IE cycle is provided by IPA. This calendar for submission of assessment plans and outcomes is aligned with yearly cycles of academic, administrative, and academic and student support services units. Importantly, all units are allowed and encouraged to complete their IE assessment components before the specified deadlines.
For academic programs, the IE assessment cycle calendar begins in May or August,
For academic and student support services units, the IE assessment cycle calendar begins in July,
For administrative units, the IE assessment cycle calendar begins in September.
Which national, regional, and state entities are Institutional Effectiveness stakeholders?
We provide information about SLOs and POs to the Southern Association of Colleges and Schools Commission on Colleges (SACSCOC), the regional body for the accreditation of degree-granting higher education institutions in the Southern states. SACSCOC accreditation is required to maintain eligibility for federal funding, including student financial aid and research grants.
Per Regulation 8.016, Florida Board of Governors (BOG) requires all institutions in the State University System of Florida to establish a process for certifying that each baccalaureate graduate has completed a program with clearly articulated expected core student learning outcomes. These outcomes constitute state-mandated Academic Learning Compacts (ALCs).
Many national discipline-specific accrediting bodies also require FSU academic programs to document and achieve a range of student educational outcomes and to provide evidence of efforts toward continuous improvement.
title-inside title-centered
2